Many of us know we have too many products in our bathroom. Yet still, we continue to pack our cabinets. The bathroom is most often the second area of our home that produces the most waste. De-cluttering your bathroom can be one of the best places to start. It is most often one of the smallest rooms in your home with very few to no sentimental items.
Here are four ways I've reduced my bathroom clutter and landfill waste:
I stopped purchasing and started using:
Yes, don't buy another product that's not needed. I used up what I already had. I learned to say no to new product I wanted. Just because we can buy three different types of shampoo and 4 different eye creams doesn't mean we should. After doing this, I no longer had duplicate items.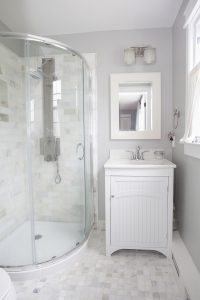 Simplify cosmetic items:
I wear minimal make-up everyday but I've reduced my daily cosmetic items down to these:
One foundation
One concealer
Three shades of eyeshadow
One mascara
One eye pencil
Pencil sharpner
Cinnamon as blush (from my kitchen)
2 brushes that I apply make-up with
*Update* You can see my current bath and beauty products here.
It only takes me about 5-7 minutes to apply my make-up in the morning and I have no excess clutter from items I'm not using.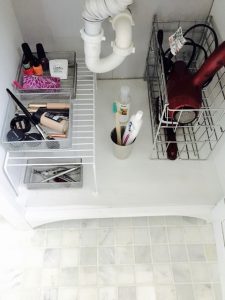 Since my husband uses a different bathroom (so he doesn't wake me up in the morning) my bathroom is not shared space. These are only my products in the cabinet.
Spending more money on beauty products that you don't need or use will not bring more happiness and self esteem. Chances are, if you're spending too much money on excess beauty products, the opposite effect will take the front seat. You will feel stressed with clutter and regret the wasted money.
Consider zero was alternatives:
Here are some of the changes I've made:
Almond oil as face moisturizer
Make coconut lotion as body moisturizer (See recipe here)
Replaced tampons/pads with Diva Cup
Replaced my shampoo and conditioner with a shampoo bar soap. I use Dr. Bronner's lavender bar soap or Good soap that comes package free from Whole Foods.
Cinnamon from my kitchen as cheek blush. Try it!
Baking soda as a facial exfoliant
I use this compostable toothbrush
We purchase %100 recycled bathroom tissue wrapped individually in paper
We use bar soap or Dr. Bronners liquid soap for hand washing
Baking soda as deodorant
Reusable pads instead of disposable ones
Items I decided I didn't need:
Hair spray: To my surprise, I haven't missed it at all!
Hair conditioner: I use a little bit of coconut or almond oil on the tips of my hair instead.
Multiple items like hairbrushes, nail clippers, etc.
Cotton pads and cotton balls: I can't even remember what I used them for now.
Nail polish: I've kept a few colors for occasional use my daughter and I have.
Cotton swabs for your ears: It may come as a surprise but using cotton swabs in your ears is not good for you. Read this article from the Huffington Post and you may never use cotton swabs for your ears again.
You may find you need more or less items than I have in my bathroom. The number of items is not the end goal, reducing your excess and only keeping items that you use and love is.
Start with one area first: hair care, body products or make-up and you'll be on your way to simplifying your bathroom and reducing your waste!
*Note: This article contains Amazon affiliate links, which means I receive a small commission on anything you purchase at no extra cost to you. All money generated by these links supports the cost of maintaining our website! I will always be authentic in my recommendations of products I've personally paid for and used.