For many (myself included), letting go of the sentimental items can be the most difficult area to simplify. The possessions given to us can hold heartfelt memories of people, places and precious moments had in our lives.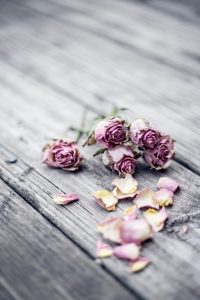 But what happens when the sentimental items have become heavy? When they've begun to take up too much space in our lives? When our children don't want the things we've worked so hard to hold onto? These are some of the questions I found myself asking as I approached that layer of sentimental things on my journey to get uncluttered.
I've come to realize that letting go is not a process in and of itself but is the result of earlier actions. You don't just will yourself to let go because you know you need to. You have to process through things for the letting go to follow.
Letting go comes from awareness, acknowledgment, acceptance, and for me—my faith. We must ask ourselves questions and allow vulnerability to see the truth.
After all, you can't let go of what you aren't aware of, what you won't acknowledge, and what you can't accept.
It can be extraordinarily difficult to find peace in letting go of sentimental things — but the truth is, at some point, it all has to go somewhere. And in the words of C. JoyBell C., "You will find it necessary to let things go; simply for the reason they are heavy."
In my guest post, A Guide to Letting Go of Sentimental Things, on No Sidebar, I share some of my experiences and helpful tips in letting go of the sentimental things.
Please join me over at No Sidebar to read the article.
Grateful,
Zoë
xoxo