"Zoë Kim is a voice of calm and reason to help guide you through your journey to a saner, happier life. Among the books I've read on this topic, this one is the most helpful."  – Amazon review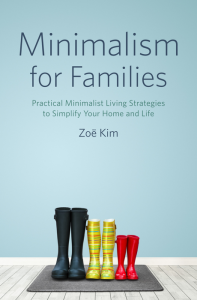 I am thrilled to announce I have released a new book today: Minimalism for Families: Practical Minimalist Living Strategies to Simplify Your Home and Life. 
This book is written to give every family the tools and strategies to become a minimalist family. It expresses in a clear and inspirational way how to become and apply minimalism in your own life. With practical tips, strategies, and gentle encouragement, every family will have the tools to apply minimalism.
Minimalism for Families is family-focused but anyone can benefit from the perspectives changes and tools in this book. Speaking from my heart and own personal experience, I offer questions to ask yourself (and your family) to remove the excess that weighs you down. This book includes the why AND the how in removing the excess from each room in your home.
Where to grab your copy
Starting today the book can be found where books are sold.
Hardcopy: Barns & Noble | Amazon | Books A Million | IndieBound 
Digital: Kindle | Nook | iBooks
I have been on this journey for more than 6 years. This book shares the lesson and strategies I've used to bring my family on board. No guilt, no shame. Just my heartfelt honest take on living with less and having a family.
Grab your copy today. And grab one for someone you love.
*Note: This article contains Amazon affiliate links, which means I receive a small commission on anything you purchase at no extra cost to you. Thank you for supporting our simplicity message!
(photo Jessica Vanlencia)