Many of us have a fair amount of beauty products stuffed in our bathroom cabinets. Mine was no exception. It's no surprise the bathroom is also the second largest area of waste in our homes, followed by you guessed it, the kitchen.
Two years ago I got my beauty routine down to a minimum. It's one of my favorite areas I've simplified because that's often where I start my day. It's amazing to look back now and see how many products I kept — thinking I needed them.
How did I simplify my beauty and bath products?
The single technique that helped me significantly simplify my beauty and bath products was experimenting by elimination. I removed about 80% of my beauty products for a set period of time (at least a couple weeks). This allows me to live with less immediately without having to make the decision to get rid of it right away. So I pack it up and set it out of sight. This method typically leaves me with just the items I've used in the last 2 weeks.
Over the following weeks, I found I didn't need many of the products I had. In fact, I couldn't even remember many of them after a while.
I still looked the same with the handful of beauty products I kept. No one noticed I looked any different. I couldn't help but wonder, "Why hadn't I done this sooner"?! Time and time again, this method of taking out 50-80% of the items in an area showed me I didn't need them after all. After a few weeks, I would end up donating most if not all of what I had boxed up. (unopened items of course).
After getting comfortable with my minimalist beauty routine, I began replacing products (as needed) with environmentally friendly alternatives. It's a work in progress — I'm not completely zero waste in my bathroom. My husband has been encouraged by some of my zero waste products and switched a few of his as well.
When friends ask me about the zero-waste beauty products I use, I always recommend they simplify their products first, before purchasing a zero waste beauty products. It's easy to end up with too many zero waste products!
MY BEAUTY PRODUCTS.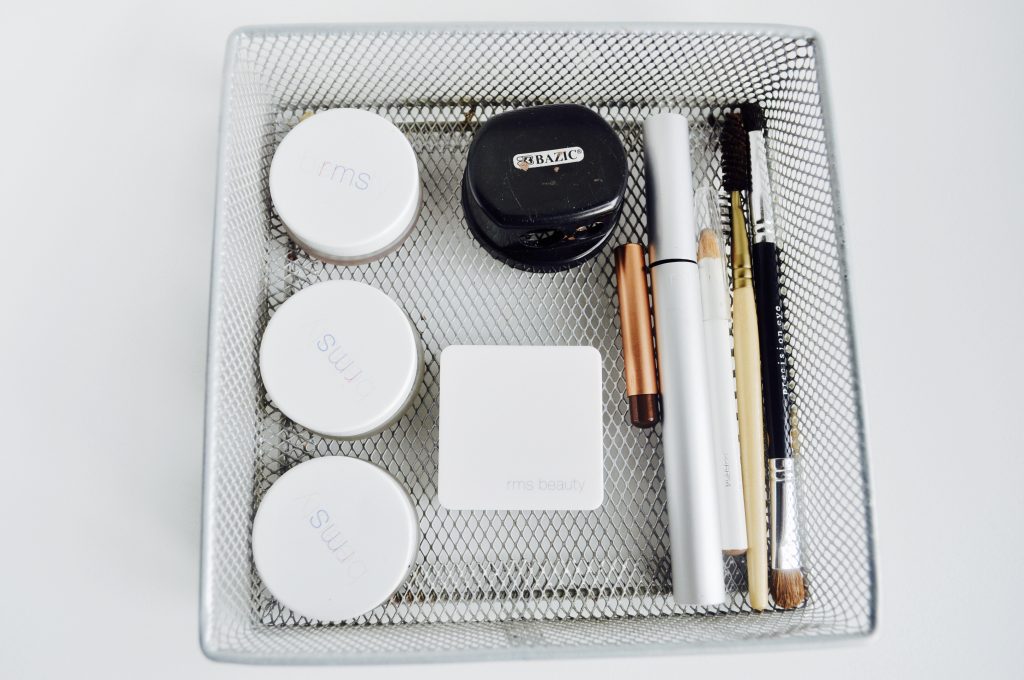 This is currently the entirety of my beauty products. I may add a couple items in the future but for now, this is enough. Most of my make-up is from RMS Beauty. They are all natural, organic products packaged in recyclable containers. Many of them can also be applied with your finger so no brush is needed. They run more expensive than your average drugstore beauty product but I've found some of them to last longer.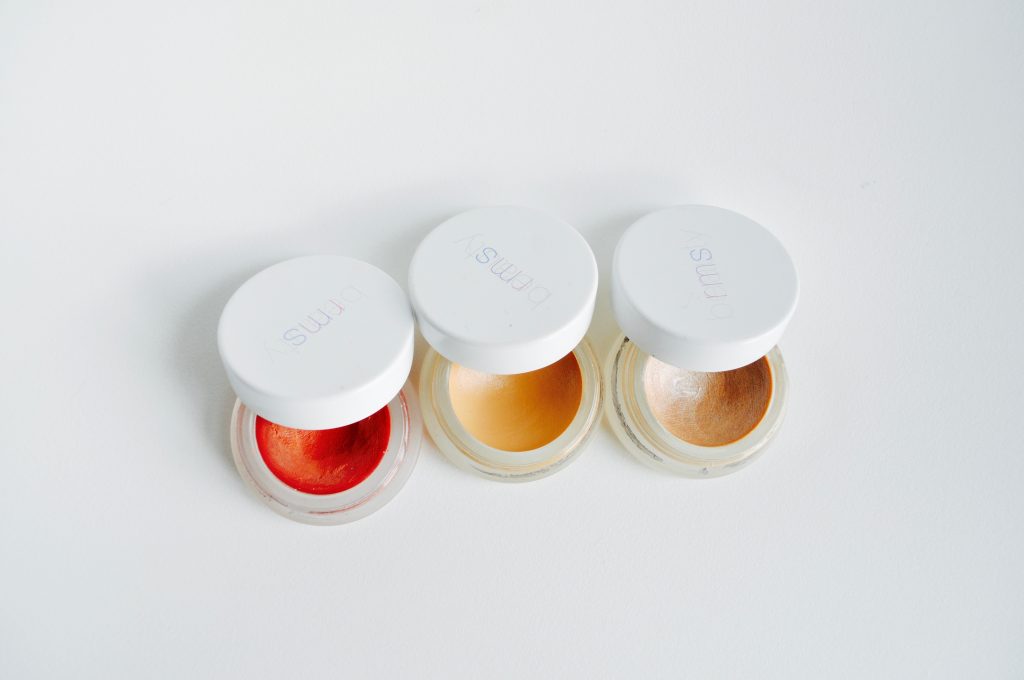 Blush and lip color. RMS Beauty lip-to-cheek stain. This is a lip stain that I also apply to my cheeks as blush. No brush is needed to apply the product. I think this is going to last me a year!
Foundation. RMS Beauty "un"-cover up in recyclable round glass container.
Eyeshadow cream. RMS Beauty Eye Cream in the color Lunar. It goes on light and smoothly. I would say this provides light coverage. By the end of the day, I could easily reapply.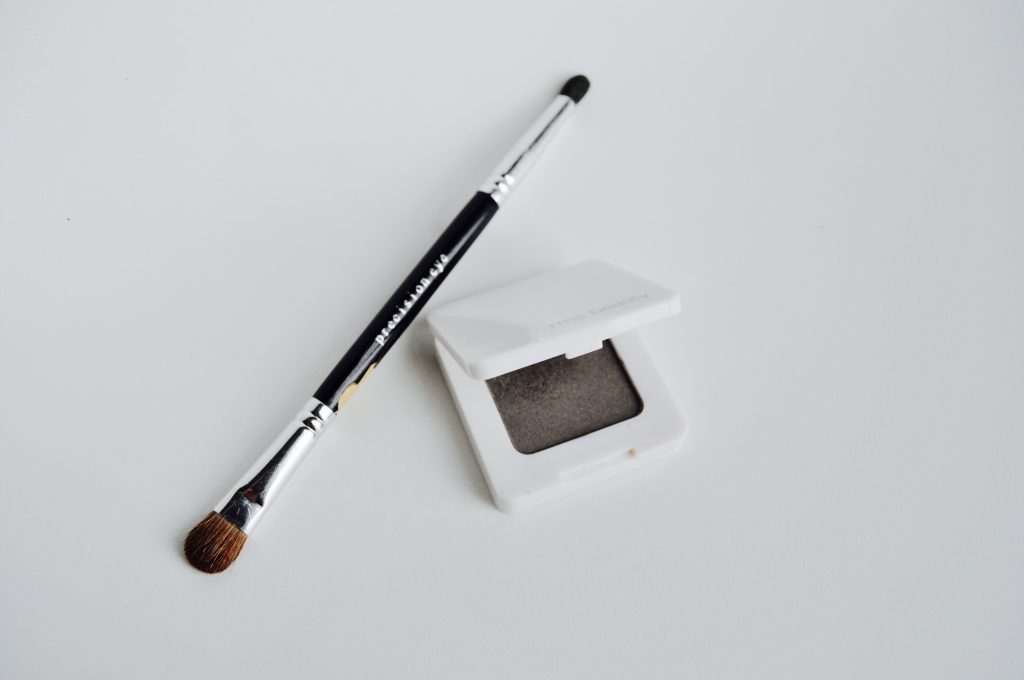 Eyeshadow. RMS Beauty Eyeshadow in Twilight Madness. I'm very happy with this product and it stays on all day. It's also organic and packaged in a recyclable container.
Eye shadow brush. I purchased this from Sephora years ago to apply powder eye shadow.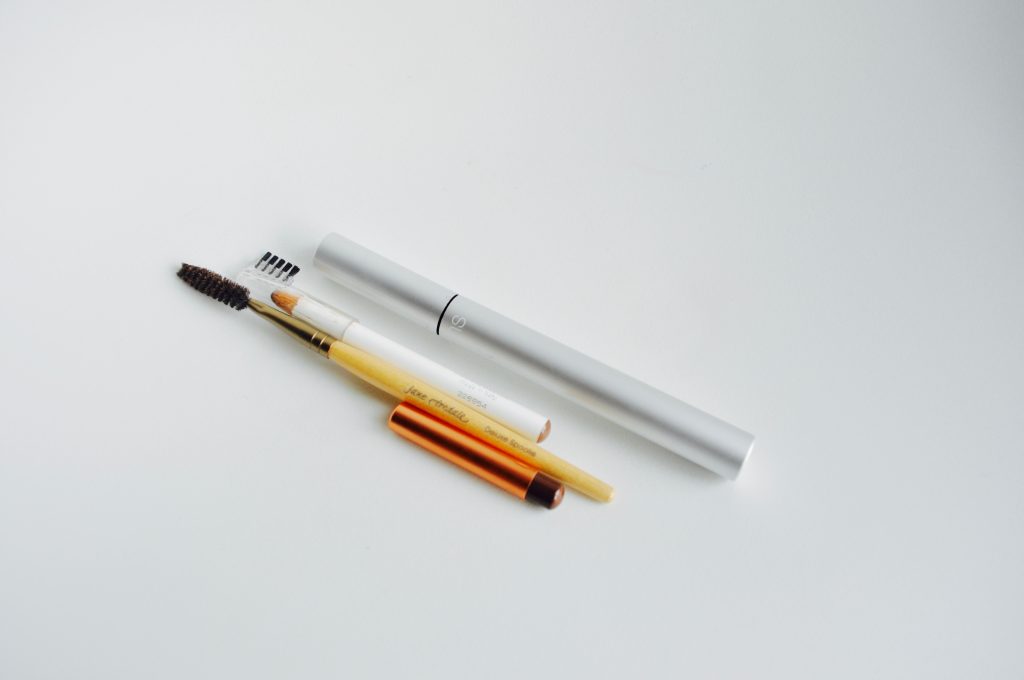 Eyeliner. This one has nearly run out and I plan on ordering a different brand.
Brow brush. The Jane Iredale deluxe spoolie brush is my favorite brow brush. Bea Johnson from Zero Waste Home uses this brush to apply her homemade mascara.
Brow pencil. The Ere Perez Natural Cosmetics Almond Oil Eyebrow Pencil is my current favorite eye pencil. It goes on well and the tint can be adjusted based on the pressure of application.
Mascara. RMS Beauty mascara is another favorite. It doesn't smudge and comes in a recyclable container.
SKIN CARE.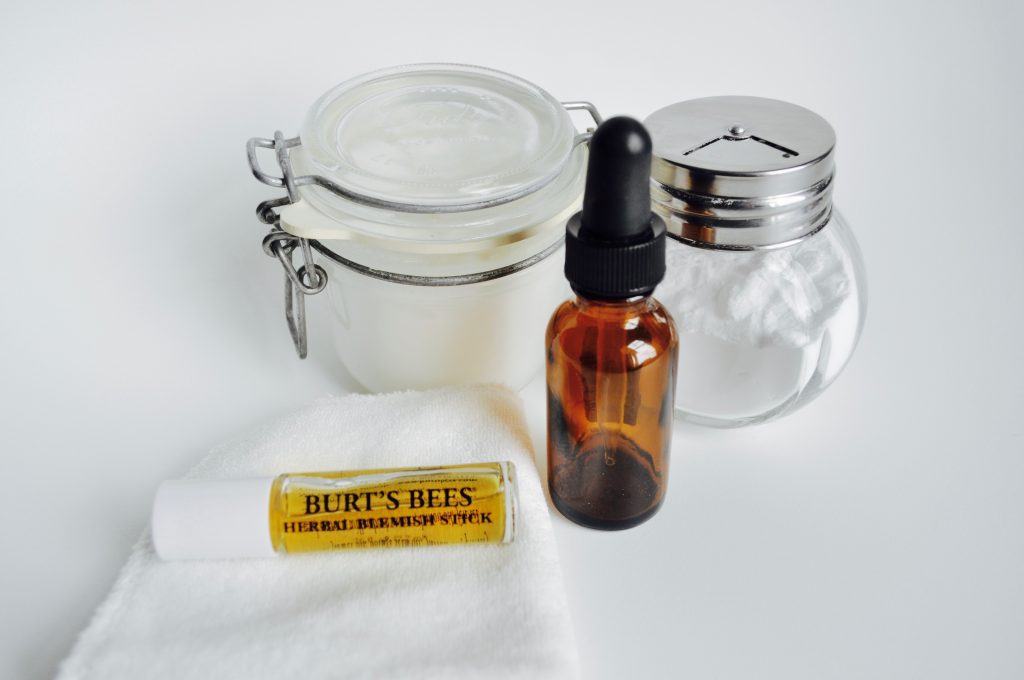 Body moisturizer. The jar on the left is homemade coconut body butter I use for moisturizing my skin.
Blemish control. Burt's Bees herbal blemish stick works well for mild blemishes.
Face moisturizer.  I use almond oil to moisturize my face and love it.
Exfoliant. Baking soda works well to exfoliate the skin. I keep it in this glass shaker with a rotating lid.
Deodorant. I use baking soda as an antiperspirant.
DENTAL CARE.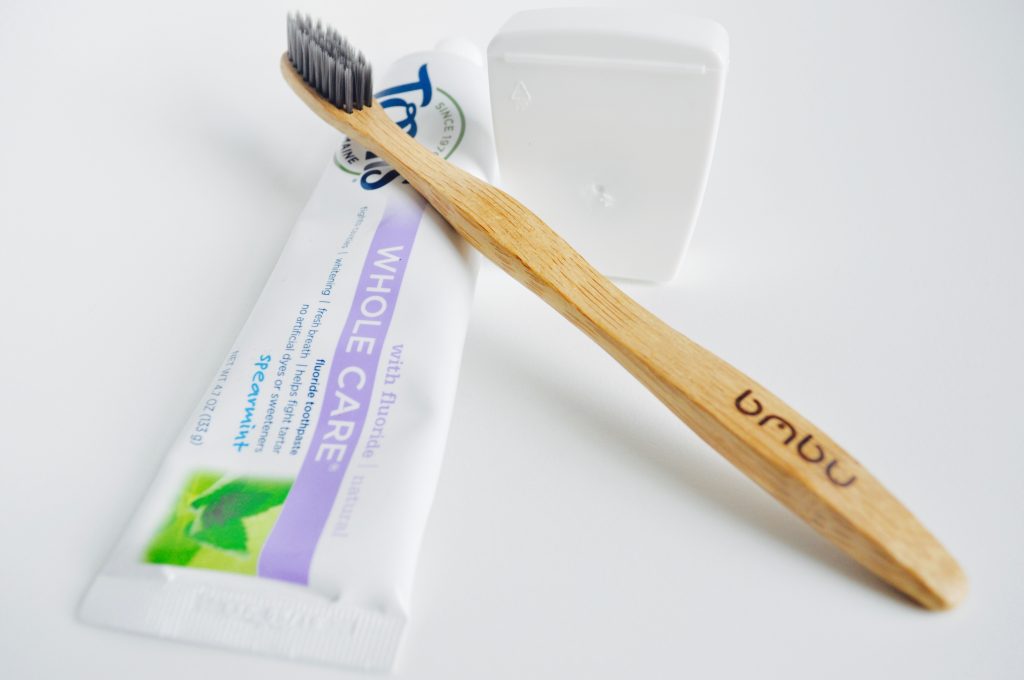 Toothpaste. I'm currently using up my Tom's of Maine toothpaste and may choose a different product. Although Tom's has a recycling program for all their products through Terracycle there are better alternative store-bought kinds of toothpaste.
Toothbrush. I've been very happy with the function of this bamboo toothbrush. It's compostable and biodegradable. My kids use these too!
Dental floss. Currently, I have your average floss. When I purchase more, I'm going to give this biodegradable floss a try.
HAIR CARE.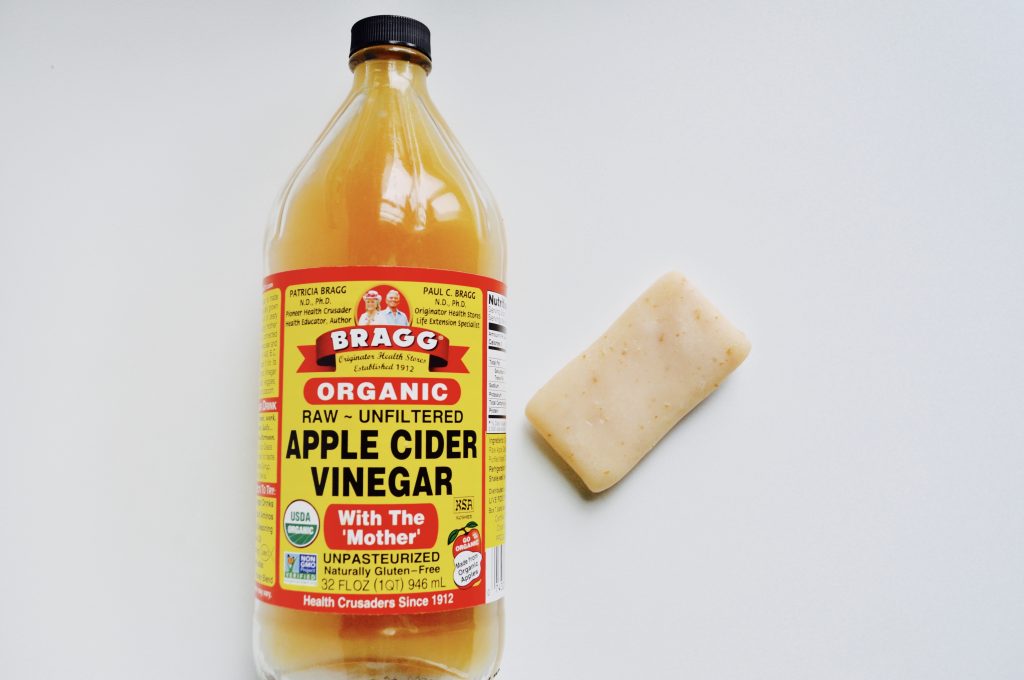 Bar soap. I use bar soap to wash my body and hair. I'm still on the search for a bar soap that doesn't leave a waxy feeling on my hair. I'd be happy to purchase shampoo in bulk from a natural grocery but it's not carried at stores in my area.
Apple cider vinegar. I use this as a rinse after I wash my hair with the bar soap. The vinegar removes the waxy feeling and leaves my hair feeling clean.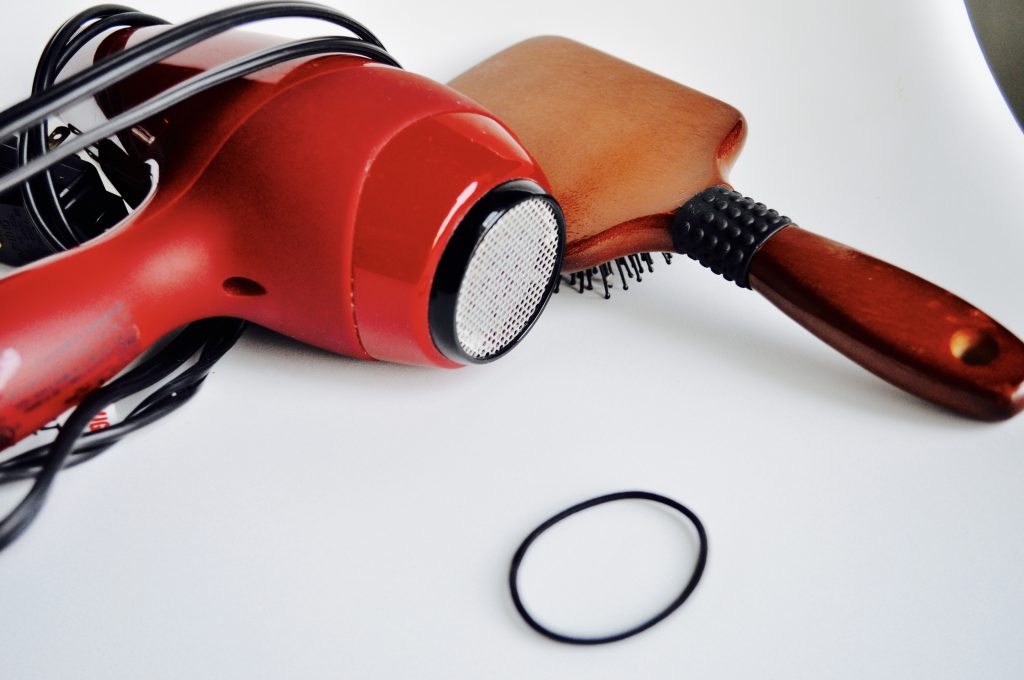 Hair dryer.  I wash my hair every day and dry it mostly. I know daily washing and drying doesn't make for the healthiest hair, but that's what I'm doing right now. Sometimes being a mom to four littles makes me feel like the days just melt into each other. And with a daily shower and a little bit of makeup, I'm ready to tackle it like a new day.
BODY CARE.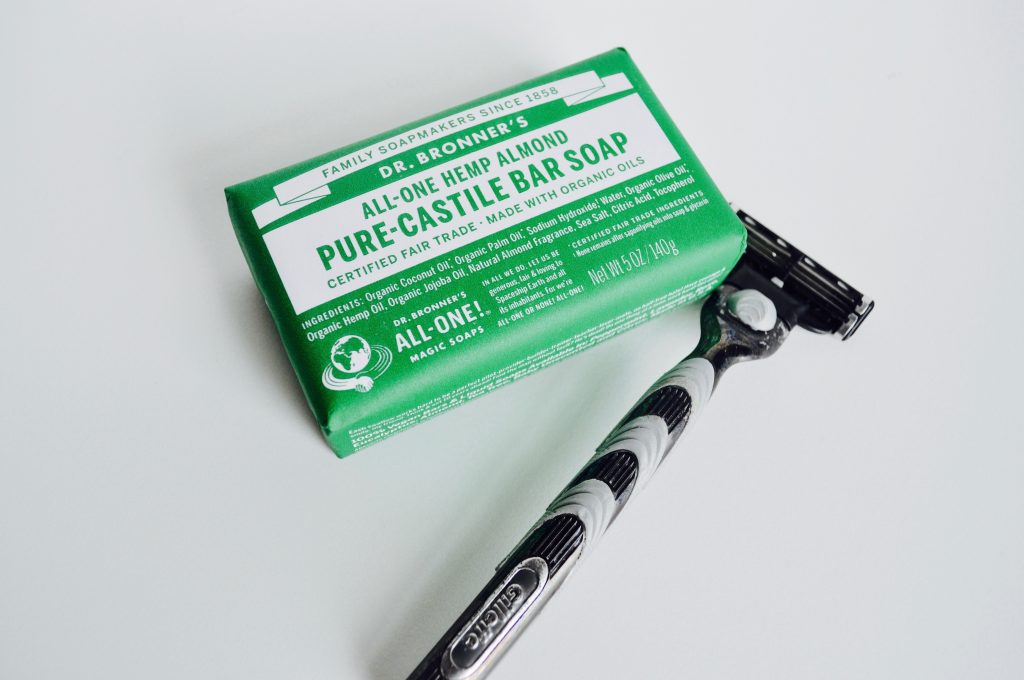 Bar soap. As mentioned above, I use the same bar of soap to wash my hair and body. In the past I've used Dr. Bronner's to wash my body and face. My favorites are the Hemp Almond and Lavender. When we had a water softener in Connecticut I was able to wash my hair with this soap and no apple cider vinegar rinse was needed. Since moving to GA, my hair feels too heavy with Castile bar soap.
Razor. I still have a handful of disposable blades to use up. I may look into a safety razor like this one. No need for shaving cream with Dr. Bronner's soap. It provides enough lather to shave.
FEMININE CARE PRODUCTS.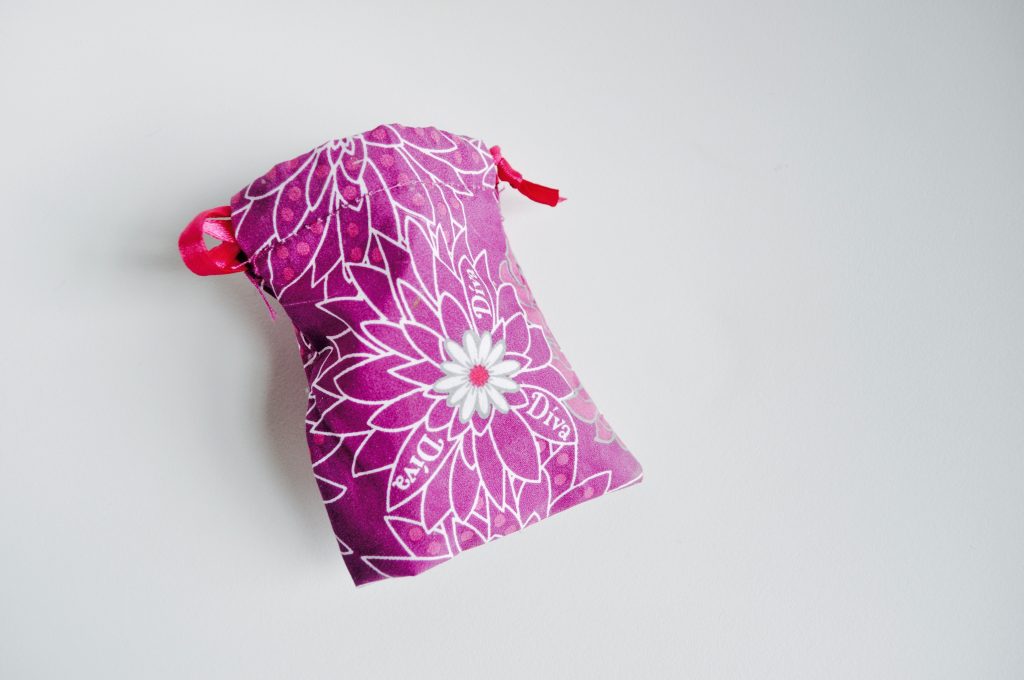 Menstrual cup. Now that I got this cup thing down, I prefer it over tampons. But to tell you the truth, It did take some getting used to. There are many tutorials explaining just how it works. They come in different sizes so it's best to read up before purchasing one.
I also have reusable cloth liners.
NAIL CARE.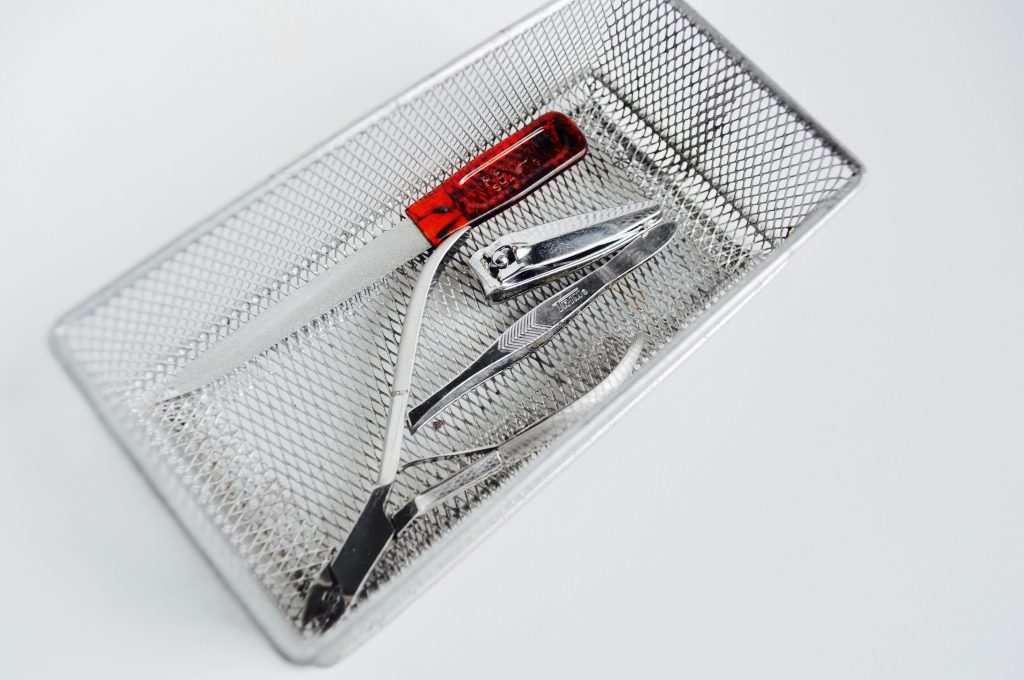 For nail care, I use cuticle cutters, a file, and clippers. The tweezers are for my brows and the occasional splinter on my kids. I occasionally paint my nails (once a year) and will use my daughter's nail polish.
If you're thinking, this is crazy, I'm never using a menstrual cup! That's ok — you don't have to. If your ideal minimalist beauty routine doesn't look anything like mine, that's ok too — it doesn't need to. Just take away ideas and images from this post that help you create what works for you.
This is just one of the infinite ways to create a minimalist beauty routine.
Looking at these photos of my minimalist beauty routine reminds me, one step at a time does add up. Progress over perfect. Don't let the smokescreen of perfection keep you stuck. Keep going my friends.
*Note: This article contains Amazon affiliate links, which means I receive a small commission on anything you purchase at no extra cost to you. All money generated by these links supports the cost of maintaining our website! I will always be authentic in my recommendations of products I've used.