I love a clean home! But like many, my cleaning supplies were far from minimalist. Often, I would purchase a new cleaning product only to come home and find products I needed to use first. Having a different product to clean each area added to the clutter and confusion about what I had run out of and what I still had enough of. There was nothing simple, safe or even practical about my cleaning routine or the products I used.
Once I became a parent, I started reading the labels on products we bought more carefully. As a mom to these four littles, I try to avoid chemicals in their life when possible.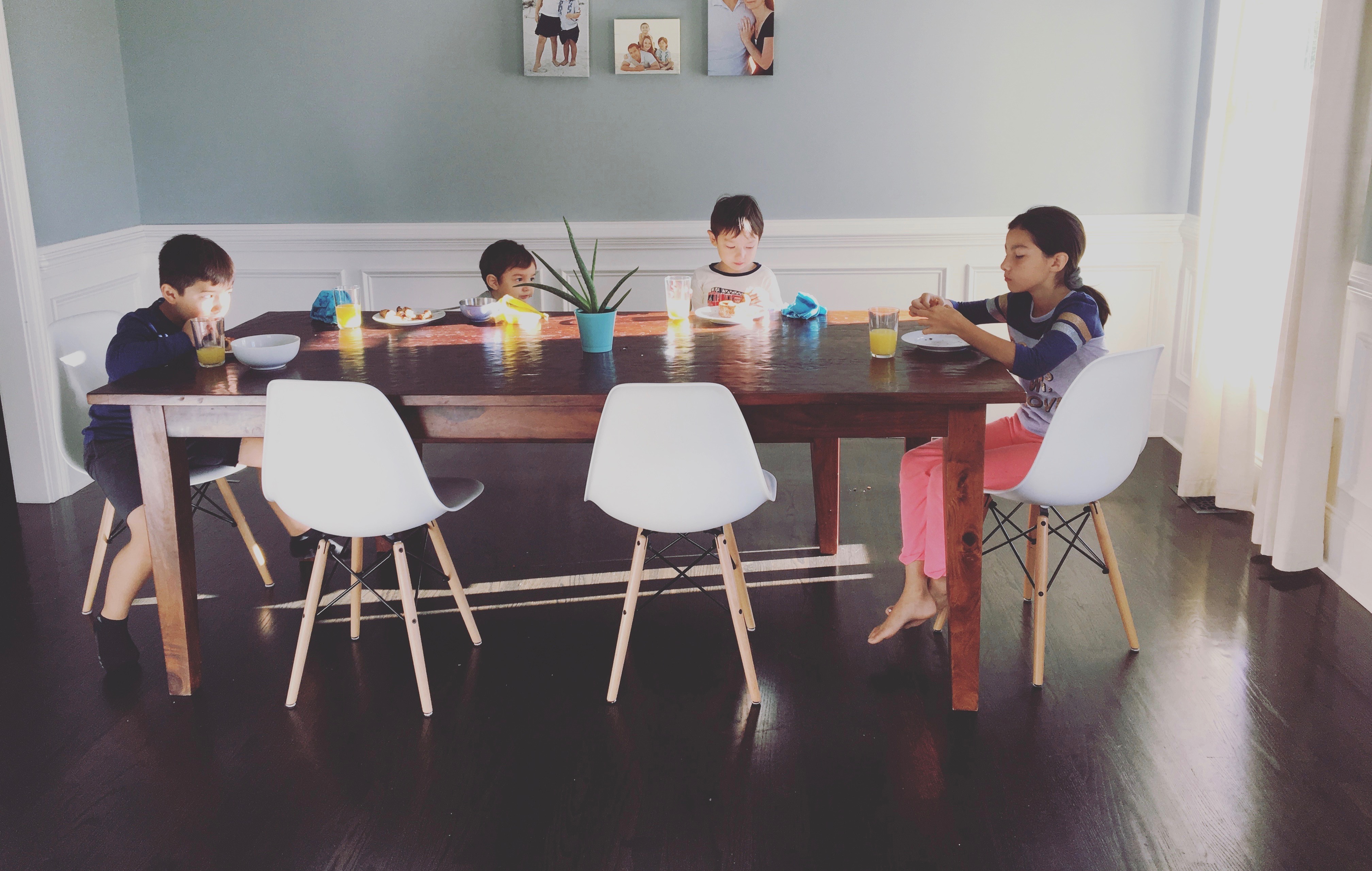 Although many of my current cleaning items are zero waste, yours don't have to be. This article is not about telling you what to use — just sharing what I use and how I've simplified it.
If you're currently deep in de-owning your stuff and feeling overwhelmed, I don't recommend friends take on the project of making a bunch of new cleaning products. Start simple and find a system of less that works for you. When we make things too complicated, starting too far ahead from where we're currently at, the change may be unsustainable.
Over the past six years, these are the products I've simplified to in cleaning my home. (Affiliate links included. Learn more.)
House Cleaning Tools: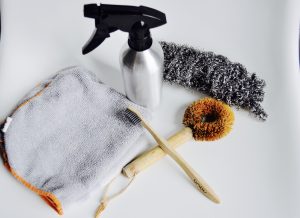 Microfiber cloth, spray bottle, stainless steel scrubber, wooden dish brush, an old toothbrush, microfiber floor mop, broom, dustpan and a vacuum.
Microfiber cloths
I puchased my microfiber cloths years ago but there are better alternatives. (See update below). If you haven't tried microfiber cloths, the basic idea is that the microscopic fibers in the cloth pick up much more dirt, bacteria, and germs than a regular cloth. Microfiber has more surface area and the smaller fibers can get into crevices too small for other materials. The spaces between the splits of the cloth collect the dirt and dust rather than just push it around.
Investing in microfiber cloths enabled me to stop using paper towels six years ago!
*Update* Microfiber cloths are made from petrochemicals and the problem is, they are made from a nonrenewable resource and do not biodegrade. And only those made from polypropylene are recyclable. There are better alternatives  like these bamboo cloths.
Spray bottle
I use these spray bottles (pictured above) for my all purpose cleaning solution (1 part vinegar, 1 part water and 20ish drops of orange essential oil). Then I have this glass spray bottle for hydrogen peroxide. You can also attach some spare spray nozzles to an empty soy sauce bottle!
Stainless steel scrubber
Love these stainless steel scrubbers! (pictured above). It has lasted me over a year and I use it almost every day on my pots and pans.
Dish brush
I use this natural wood scrub brush for my dishes. (pictured above). The bristles are made from plant fibers and it easily scrubs away food particles.
Floor mop
The microfiber mop that I purchased 6 years ago is still going strong. I have two microfiber cloths that I wash weekly.
Dustpan
We purchased this metal dust pan a couple years ago. I love it. No more plastic parts to break.
House Cleaning Agents: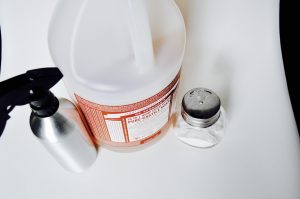 Castile soap, vinegar, baking soda and hydrogen peroxide.
Castile soap
Castile soap is an all-natural vegetable oil-based soap. This is one of my go-to cleaners. It's a natural soap gentle enough to wash your hair, face, and dog but also able to clean floors and bathrooms. My favorite is Dr. Bronner's Eucalyptus soap.
White vinegar dissolves dirt, soap scum and hard water deposits from smooth surfaces. It is a natural deodorizer, absorbing odors instead of covering them up. My husband can't stand the smell of it but don't worry, your room won't smell like vinegar for long. The smell dissipates as it drys. Vinegar can be used as a bleach alternative for some applications, like cleaning. It is also biodegradable. However, I want to mention that vinegar does not kill dangerous bacteria like staphylococcus.

I see many recipes that mix castile soap and vinegar together, but I found that vinegar and castile soap don't mix well together. In fact, it curdled and smelled terrible!
Baking Soda
Baking soda's mild abrasive action and natural deodorizing properties make it an excellent replacement for commercial scouring powders. 
Hydrogen peroxide
The U.S. Environmental Protection Agency has approved hydrogen peroxide as a sanitizer. I use it (the 3% solution) to sanitize counters, bathrooms, and even my wooden cutting board to kill salmonella and other bacteria that vinegar does not. You can also use it to kill mildew and mold, and whiten your laundry.
By Area:
Floors: we sweep with our horsehair broom and mop with a diluted solution of castile soap on our wood and tile floors.
Windows and mirrors: My younger children leave all kinds of grime on the windows so I usually wipe with a wet cloth and then with a dry microfiber cloth. No chemicals needed.
Bathroom: I clean with my all purpose vinegar solution and then occasionally spray with hydrogen peroxide.
Un-washable messes: We use old clothing turned rags to clean up things like glue or car grease.
Dishwasher: We use our dishwasher and like the Seventh Generation powder soap that comes in a recyclable box.
Do you have favorite minimalist cleaning supplies? I'd love to hear them in the comments!
*Note: This article contains Amazon affiliate links, which means I receive a small commission on anything you purchase at no extra cost to you. All money generated by these links supports the cost of maintaining our website! As always, all opinions are my own. Thank you for your support!