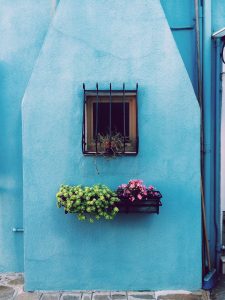 I'm done. And I never want to do it again!
These are the words off the lips of many after moving.
No one is jumping for joy and resting in peace at the thought of moving. Unless you're moving to Hawaii, then you just wish you didn't have so much stuff.
There are two things I've changed to help simplify the process of our many moves—And I'll talk about those real soon.
As a retired military family we've moved frequently. It's been amazing, an invaluable experience really.
We have moved to Hawaii twice from the mainland. Sound like a dream? It was. And still is. Though island beaches and swaying palm trees may be on your horizon, I assure you, every drop of excitement and joy can evaporate upon the thought of moving your stuff.
ALL OF YOUR STUFF…
Our moves in the US military gave us many opportunities.
Opportunities to live in a 1 bedroom hotel for a month with 4 little children. Opportunities to make many friends, to travel, to grow outside of our comfort zone and opportunities to embrace new perspectives.
I am thankful for these opportunities, all of them—especially the hard ones. They've helped us re-evaluate our priorities, be more resilient, and grow—holding on with intention to the things that matter most in our life, which of course aren't things at all. (but knew that already)
These opportunities, the hard ones, helped shape my intentional focus to cultivate the more meaningful in my children's lives.
In these opportunities, I've found 2 things you can change now to simplify your next move, mentally and physically.
1.   My Perspective
2.   My Clutter
Norman Vincent Peale once said,
"Change your thoughts and you can change your world." 
1. Perspective—it directs our thoughts and feelings, our ability to understand others, our capacity for joy and the way we treat others.
Our perspective shapes how we see Everything.
Some will see the glass half empty and others will see the same glass half full. Choose to make a daily choice to see it half full—thankful to have a glass to hold.
Moving may be your choice or an unwelcome burden. Either way, find the positive in your circumstance and focus on it. A positive attitude will always pave a path.
2. Clutter—Reducing your clutter will simplify your move (and life), making it less stressful. This is not a new idea, yet many of us choose to hold on to excess, letting it sap the energy from our hopes, dreams and purpose.
I've asked myself, why did we own so much stuff? It's a simple question with a complicated answer, but simply put, because we could. But the truth is, having excess clutter does not make your quality of life better (No surprise there). To the contrary, it results in wasted money, more stress, discontent and less time to invest in the important aspects in your life.
To get a jump start clearing the clutter for your next move (or because you've had enough of the insanity), apply these actionable perspectives.
You're Paying—When you move the amount you will pay is calculated by how much stuff you have. Either by how much it weighs or the size truck you need. If your fortunate to have your employer pay the bill for your household goods, pretend it's on your dime this time. Would you pay to move the exercise equipment or pasta maker you rarely use?
We are less likely to keep so much when we have to pay for the move.
You're Packing—Some are able to hire professional movers or their employer facilitates packers to do it. If this is you, tell yourself that is no longer the case. Examine of your possessions as if you will have to personally pack ALL of it. You will be responsible to touch, wrap and place every single item in a box.
We are less likely to keep so much when we have to pack it ourselves.
Unpacking Yourself–After all the sweat and tears (hopefully no blood) shed to get your stuff moved, assume you will be unpacking everything by yourself. Ask yourself, how much work will you want to do when there isn't anyone else doing it with you?
In the US military it's not uncommon for the task of unpacking to fall on one spouse while the active duty member goes to work or gets deployed. My husband deployed (as in left the country for months)  shortly after moving to a new location on two occasions. Painfully, it helped me continue to re-evaluate how much we held on to, how much I held on to.
Overseas move—Ahh, one of my favorites. This one will force you to shed a lot. Most often, moving overseas means moving into a smaller home. Will all the contents of your 3 bedroom 2500 sqft foot American suburb home in fit into a 3 bedroom 1700 sqft home with no garage? The size comparison may be different for each of us, but the idea remains the same, you will have less space. When moving overseas you will be paying much more to move it. So much so, many people have to sell most of the contents in their home just to get there.
No Storage— 1 in 10 American households currently rent a storage unit According to SelfStorage.org. While some may be using personal storage units temporarily to transition through a job relocation, military deployment, divorce or a death in the family, many of us simply have too much stuff. Be intentional and reject to ability to store your belongings. You will save yourself time, money.
I can't say with certainty exactly what my life would look like had I not embraced these new perspectives and reduced our clutter,
but I can say,
Without intentional forethought, I would own more than I thought I wanted and always more than I ever needed.
So take a step—unload some of it now.