Lets face it, many of us own too much stuff and we know it. It's easy to start placing our personal worth and happiness in things, such as houses, cars, and clothes. We are constantly comparing ourselves to others who have more. Continuing to acquire more, only to remain discontent.
Today, studies are confirming, our excess clutter is sapping us of our time, money, relationships, passions, mental health, faith and happiness.
The answer, get rid of your clutter, de-own it.
I'm excited to introduce the timely book, The More of Less: Finding the Life You Want Under Everything You Own, written by Joshua Becker, blogger and founder of Becoming Minimalist and The Hope Effect. I was fortunate enough to receive an advance reader copy of his latest book.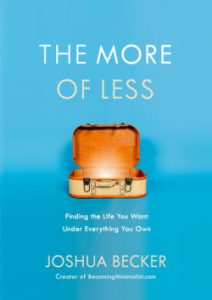 In The More of Less, Joshua Becker packs a priceless message: there is more to be had in owning less. Becker gives practical advice through sharing his own life experiences and personal stories of others. He provides functional steps to help you determine what should stay or what should go, but is not specific about which items in particular should be purged. The greatest takeaways of the book are gleaned from the more and the why aspects of owning less. These are the benefits that may motivate your heart to tackle your excess stuff and create lasting change towards simplicity and a life decluttered.
Becker also introduces The Hope Effect in his book, a non-profit organization changing how the world cares for orphans, replacing an institutional style orphanage for a campus setting composed of two-parent family units. Living a minimalist lifestyle has provided Becker and his family opportunities to invest more in their passions and contributions. Upon receiving the advance payment for this book, walking the talk, the Becker family gave it away, to The Hope Effect.
In this clear, informative and encouraging book, Becker presents rational minimalism, addressing the heart aspects of our cultural focus on material acquisition. He weaves in applicable biblical stories while presenting a well-rounded path of voluntary simplicity and the universal benefits it can provide to everyone living in excess.
This is the perfect book for anyone who desires more contentment with a life free of excess clutter, instead filled with intentionality, generosity, passion and purpose.
*Please Note: This post contains amazon affiliate links, which means if you purchase anything through my affiliate link, The Minimalist Plate will receive a small commission at no extra cost to you. All money generated by these links support the ongoing costs of maintaining our website.