We're all searching for happiness and self-improvement, so we can live a more fulfilling life. I know there's no shortage of improve-your-life-courses to take online. The phrase life-changing can be tossed around like an empty promise. But the phrase life-changing is what so many are saying after completing the Uncluttered Course. People are finding their lives under everything they own and it's freeing!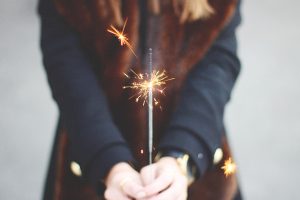 Joshua Becker, founder of Becoming Minimalist and author of The More Of Less, created Uncluttered, a 12-week online course intentionally designed to help you own less and live more. The course includes videos, live webinars, interviews, weekly challenges, practical tips and articles, accountability and an engaged community. By the end of the course, you will have decluttered every major living area in your home.
I participated in the spring course a few years ago and the results have been genuinely amazing to see. Although I established a path of owning less 9 years ago, the course (and course participants) inspired me to tackle areas I hadn't simplified yet — like family photos! I appreciate the private Facebook community that shares endless positive perspective changes, which I've found imperative to simplifying the tough stuff (sentimental, books, expensive items) to simplify. You can have all the right methods but without a perspective change, there will be no lasting change. Uncluttered gives you that supportive perspective change with actionable steps.
The private Uncluttered Facebook community is one of the most supportive and encouraging online groups I have experienced (and let's just say I've checked out a lot of them!). Over the 12-weeks, members shared their progress, tips, struggles, and encouragement. Throughout the course, I was encouraged by the positive transformations occurring in the lives of the online community, free of judgment, shame, and comparison  — so much so that I wanted to write about it!
Here are 25 ways the Uncluttered Course has changed lives over the past few years (in their own words)—and how it may change yours!
1. They were able to do things they never do—like just sit and rest.
2. They took a vacation to Hawaii with the money made from selling their clutter.
3. They have a clearer mindset.
4. They have implemented clutter-free habits—waking up to a clean slate.
5. They now want to have guests in their home.
6. They set up healthy boundaries for their consumption–being prudent to each new purchase.
7. They are more inspired to pursue their life passions.
8. They've been able to pay off more debt.
9. They now find 'lost' items quicker with less clutter, including $100 bill in a book they'd forgotten about.
10. They feel better and have a better outlook on life.
11. They reduced their social media time to 15 minutes a day—and are still happy!
12. They spend more time with family and less time cleaning.
13. They said goodbye to "their fantasy self".
14. They are more grateful for what they already have.
15. They're no longer angry when/if their child accidentally breaks an item.
16. They spend more time outside.
17. Their house is more peaceful.
18. Their spiritual walk has been strengthened.
19. Their desire to give to others has grown.
20. Their desire to grow their relationships has increased.
21. They gained insight into their hearts motivations and causes of clutter.
22. They are now inspiring their family and friends to live a life uncluttered.
23. They gained a life-long community of encouraging and supportive members.
24. They discovered living a life uncluttered isn't just about your space—it's about your heart.
25. They have literally found a new way of living and it's freeing.
If you want to make real, positive changes like the 45,000 + people, who have taken the course, join Uncluttered today.
Registration closes Sunday, January 17, so don't wait. . 
Ready to bring about new peace and calm in your home?
Sign up for Uncluttered now, and make this the year you create the home and life that's best for you!
And because of the times we are living in, Becoming Minimalist has discounted the price to make it accessible to as many as possible. The cost is $69 for this upcoming May edition of the course—that's a 25% savings.
You'll get lifetime access to 12 weeks' worth of lessons, live Q&As, a committed encouraging community, interviews, and more. Once you've registered, you're a member for life. If for any reason you aren't able to complete the course this round, you can take it on the next round for no charge. I know many have found it extremely beneficial to take the course more than once.
You can sign up for Uncluttered and use my friends and family discount (FF25) for 25% off at checkout! Many people who participate make that money back with the new-found perspective on purchasing less!
Like this post? Pin it!
**The links to courses are affiliate links, which means Raising Simple makes a small commission if you decide to register. All money generated by these links supports our simplicity message. Thank you for your support in spreading this message!